Key figures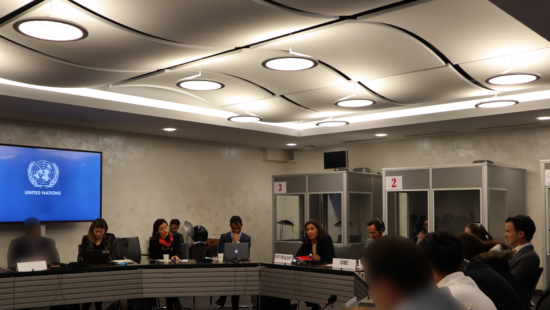 Since its inception, the CSSR has convened 66 formal physical and virtual meetings.
10 CSSR rounds have taken place in Geneva. With some exceptions, all sessions have taken place in parallel to the UN-led intra-Syrian talks.
8 small CSSR delegations met with Special Envoy Pedersen and Deputy Special Envoy Matar throughout April, June and November 2019 to provide input and advocate on key priorities regarding a range of thematic issues.
4 rounds of regional consultations took place in Beirut, Gaziantep, Amman, and Erbil. In 2020 and due to the COVID-19 outbreak and travel restrictions, three rounds of regional consultations were conducted virtually through a dedicated online platform.  In 2021, the fifth regional consultation has been conducted virtually.
20 outreach missions were conducted by the OSE-Syria CSSR team to Beirut (Lebanon), Istanbul and Gaziantep (Turkey), Amman (Jordan), and Erbil (Iraqi Kurdistan). In addition, several informal outreach meetings were conducted by team members in the respective countries.
The OSE-Syria CSSR team conducted 15 video conferences[1]  (please see note below) with civil society actors in 2017, 2018, 2019 and 2020. In addition, multiple virtual communications took place with CSSR contacts in both hard-to-reach and besieged areas in Syria, such as Eastern Ghouta, Raqqa, Deir El Zor, Idlib and the south-west, as well as with refugee communities based in Lebanon, Jordan and Turkey, and with Afrin- and Erbil-based civil society organisations and networks.
4 high-level advocacy side- events were conducted in Brussels in April 2017, April 2018, March 2019, and virtually in June 2020 on the margins of the Ministerial Conference on "Supporting the Future of Syria and the Region".
---
[1] Please note: Accurate number of participants in video conferences were not monitored in 2017 and are therefore, missing from the table of activities. Reporting on the number of participants on video conferences started in 2018.
---
Participation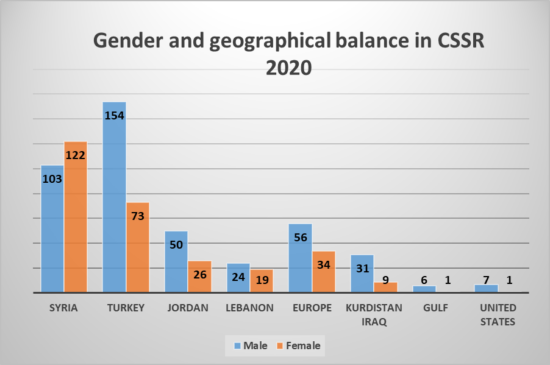 As of January 2021, participation in the CSSR is as follows:
Estimated total reach of the CSSR in terms of inclusion: 1,029 interlocutors (i.e. 864 persons directly engaged + 150[2]  organizations in the participating networks + 160 civil society actors that were recommended to participate in CSSR and/or requested from the OSE-CSSR team to take part in future CSSR events)
Number of interlocutors, including networks representing multiple NGOs, in the CSSR's entire database: 864, including 374 (43%) women and 490 (57%) men
Geographical balance in CSSR: Inside Syria 32% (274), outside Syria and in the diaspora 68% (590)
Number of interlocutors by country of residence: Syria 274 (32%), Turkey 249 (29%), Jordan 79 (9%), Lebanon 46 (5%), Europe 101(12%), Iraqi Kurdistan 52 (6%), USA 9 (1%), Gulf states 7 (0.81%)
---
[2] Please note that these 150 represent organisations not individuals. In effect, the number of interlocutors indirectly reached might be larger due to a multitude of interlocutors in one organisation. To verify this, the next phase of data assessment will analyze the reach of organisations and networks. Throughout the CSSR's existence, Some organizations have stopped their activities due to funding problems and/or restrictions on civil spaces both inside Syria and in neighbouring countries.
---
Progression in participation