Syrian civil society voices its demands to the Brussels VI Conference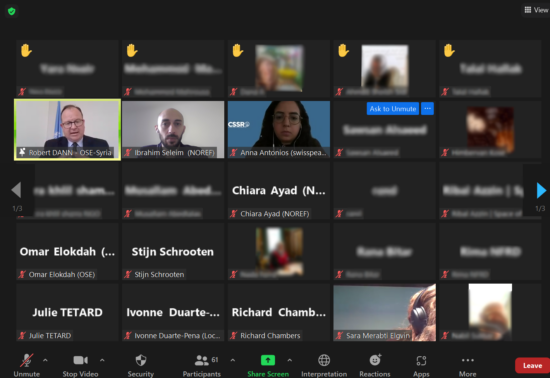 For the sixth consecutive year, the Office of UN Special Envoy for Syria (OSE-Syria) convened a CSSR side event to the Brussels VI conference on Supporting the Future of Syria and the Region from 27 to 29 April 2022. Forty-three civil society representatives, youth activists and experts, women and men, working inside Syria and in neighboring countries and Europe have held virtual closed discussions for three days on the main topics of the conference, including on civic space, the economic and livelihood situations of Syrians, humanitarian and protection issues, and youth perspectives for the future of Syria.
Participants are expected to work on a set of policy messages they will share with the UN Special Envoy, senior European External Action Services (EEAS) officials and CSSR donors on 5 May.
As in previous years, CSSR side events in Brussels and advocacy messages delivered at the Ministerial Meeting are key to channeling Syrian perspectives into the conference, demonstrating the importance of intra-Syrian dialogue and the inclusion of their voices in the political process.